In-Pipe video inspection & locating
Aquajet Services has the equipment necessary to accurately diagnose, record and locate any problem that may be present in your sewer system.
We use state-of-the-art video inspection equipment to see inside your sewer lines. This enables us to identify problem areas and recommend corrective or maintenance action as required. We use electronic locating devices to pinpoint any problem areas.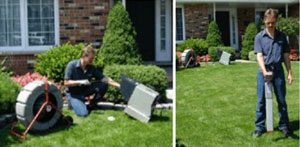 High pressure drain and sewer jetting
Aquajet Services can handle all jetting tasks from 1-1/4″ up to 12″ diameter pipes.
That's sinks to main sewers!
Electric snake service
Aquajet Services utilizes the latest Ridgid™ cable machines to handle any and all of your drain cabling needs.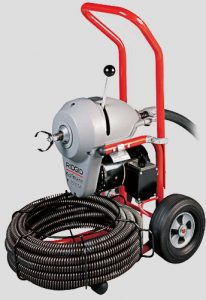 ROOTS IN YOUR SEWER LINE?
"The intrusion of roots into sewers is probably the most destructive single element that faces those maintaining a wastewater collection system" says the Environmental Protection Technology Series.
The potential for root intrusion to produce stoppages and to damage valuable pipe, finished basements and stored articles is enormous.
The rule of thumb regarding tree roots is the roots underground are about the same diameter as the branches above. However, this does not hold true when sewer lines are involved. Trees can be quite a distance away from your sewer lines and still cause problems.
One Cell at a Time
When a seed germinates, it adds one cell at a time toward the best environment from which it might extract nutrients and moisture. Tree roots behave in the same fashion. The growing point of the root moves best through loosely cultivated soil.
The most common practice to lay sewer pipe is by open trench. The back-filled soil offers a good growing medium for roots and allows roots to travel much farther and deeper than they would in undisturbed soil.
The flow in sanitary lines is at a higher temperature than the soil, and this causes condensation to appear on the outer top portion of the pipe.
As the warm moisture from the sewer pipe evaporates up through the soil, the vapours offer an excellent trail for the roots to follow. If even a tiny vapour leak exists in the pipe, the root concentrates its efforts at that point. Since some pipe joint compounds are of a porous nature, the root may entirely girdle the joint before entering the pipe.
Once inside the sewer pipe, the root takes on the appearance of either a "veil" or a "tail" type structure. If flows in the pipe are fairly constant, the root mass hangs down like a veil to the normal flow level where they accumulate deposits of grease, slime and other debris causing a blockage.
ROOT REMOVAL
Aquajet Services is fully equipped to handle all root removal jobs.
Our methods include cable machines with various cutters, waterjet powered rotating chain and blade cutters.
Call us for details
SCHEDULED Preventive MAINTENANCE
Aquajet Services provides regularly scheduled preventive maintenance jetting of sewer lines. Sanitary sewers that are subject to grease build up (typically lines down-stream of a grease trap), are cleaned at regular intervals to maintain proper performance.
Aquajet Services will work with you to determine appropriate service intervals.
Some of the benefits of regular jetting are:
Drastically reducing or eliminating grease-related sewer back-ups that can disrupt your business.
Minimizes or eliminates potential lost revenue associated with store closures due to grease-related sewer back-ups.
Reduces odour associated with slow moving drains.
Allows you to project drain cleaning expenses, as you do other maintenance items, by reducing or eliminating expensive emergency calls.
Gives you peace of mind and keeps your business running smoothly!