High pressure jetters are the ultimate tool for removing grease, soap and sludge build up in sewer and drain lines.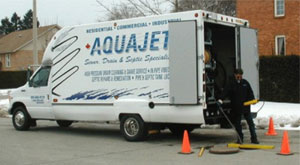 Restores pipes to full capacity
Specially designed nozzles spray powerful water jets throughout the full diameter of the pipe. Grease deposits are disintegrated and the walls of the pipes "scrubbed" clean, restoring the pipe to nearly 100% of its original capacity.
Eliminates Obstructions
Unlike chemical and enzyme drain products, the grease removed by jetting will not re-coagulate, causing a problem further down the line. Electric cable machines tend to "poke" a hole in the obstruction, (as shown in the before photo), whereas a jetter will eliminate it!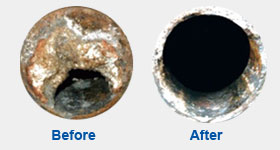 Here's a few of our specialized nozzles